SSAA Member Discount Partners
15 June 2023

OZTrail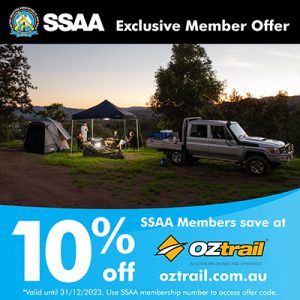 Discount – 10 %
Code – SSAAOZ10
Valid until 31.12.2023
OzTrail is Australia's favourite outdoor brand. For decades, OZtrail has been committed to providing high-quality, innovative camping and outdoor products to help everyone create memories outdoors. They are synonymous with camping, local markets, the beach, park, backyard and Saturday sport. OzTrail products are accessible, dependable, innovative and fun.
You can be confident that an OZtrail product will help you #findyourtrail.
PH8 Natural Alkaline Water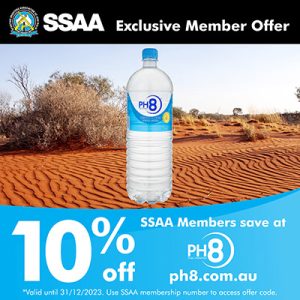 Discount – 10%
Code – SSAA10
Valid until 31.12.2023
PH8 Natural Alkaline Water has been recognised as one of the world's finest bottled waters… Sourced, owned and operated right here in Australia! It is 100% natural alkaline water drawn from a pristine limestone filtered aquifer on South Australia's Yorke Peninsula. PH8 Natural Alkaline Water is bottled at the source with a pH of 8 and is rich in naturally occurring minerals including calcium, magnesium, potassium, bicarbonate, silica and selenium. PH8 Natural Alkaline water contains alkaline micro clusters, which absorb faster in and through the body and cells – to help energise your body. Just perfect for staying hydrated when you're busy doing what you love.
Try it today and have it delivered to your door!
RMK Leather Works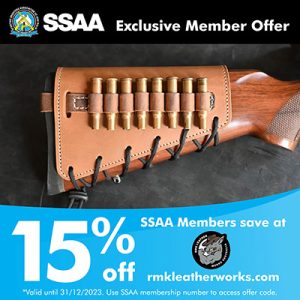 Discount – 15%
Code – HUNTER 15
Valid until 31.12.2023
RMK Leather Works is a small Australian family owned and operated company handcrafting quality leather goods. They create unique personalised, corporate & groomsmen gifts including wallets, belts, pouches and holders, gun leather, pocket tools & accessories, sheaths, practical, minimalist carry solutions for the tools you love, and more!
Your one stop shop for all of your handmade quality leather goods.
Smokey Q

Discount – 10%
Code – SSAA10
Valid until 31.12.2023
Smokey Q aim to inspire the chef within everyone using the finest Australian ingredients to bring out the best and richest flavours for your meat while bbqing. They have created some truly superior products with bold flavours and perfectly balanced sweet-spicy, salty-savoury profiles, exceeding other BBQ rubs or seasoning blends on the market. All products are hand-blended and packaged, while remaining completely gluten-free and containing absolutely no MSG, artificial ingredients, preservatives or fillers.
Try some of the award winning rubs and sauces today.
Upfitter
Discount – 15%
Code – SSAA15
Valid until 31.12.2023
Australian online marketplace for 4WD & truck accessories to fit Totoya, RAM, Silverado, Ford, LDV, Jeep & more. Upfitting is for those who don't just own their trucks. They know their trucks. Independent, they take charge of their vehicles, two hands on the wheel, seeking out the right accessories to help them build their personalised utility. Upfitter housing a range of accessories for vehicle fitment, from bullbars to brakes, shocks to struts, sourced from some of the most respected manufacturers around the world.
Upfitter. Made by the best. Sourced by us. Built by you.