Polaris on point with Ranger EV
16 April 2021
Thomas Cook
The Ranger model revolutionised ATVs more than 20 years ago with the side-by-side. Its 6×6 build allowed it to be classified as an offroad vehicle with a greater payload while maintaining its premium ride.
Developments throughout the past two decades have included increased power and improved suspension. Hit the 2020s and the Polaris Ranger Electric Vehicle (EV) wraps that all up in an ATV running on ultra-quiet battery power. The 48-volt AC-induction motor delivers efficiency and zero emissions while still offering a payload capacity of 454kg.
The 227kg capacity dump box is super-handy for offloading game and other things like wood for the campfire. The 680kg towing capacity further enhances your options. On demand true all-wheel-drive capabilities includes the Versatrac Turf Mode option. This allows tighter turning, helps prevent bogging and provides minimal disturbance to the landscape driven on. The Ranger EV covers just about any terrain and drives through water and comes with ROPS (rollover protective structure) as standard. Further to the Ranger's hunting repertoire is the right combination of seat height and foot clearance to allow quick and easy movement in and out of the vehicle.
You obtain a maximum of 98km of travel from a fully-charged motor but of course, tyre pressure, alignment, terrain, loading, towing and driving style all impact battery life. It takes eight hours to fully recharge the Ranger EV so it's a good idea to leave it on charge overnight, much like you do with your phone. The electrical aspect also means care and maintenance is straightforward. The handy manual provided is more than 100 pages (all in English) that covers this and just about everything else, including towing speeds and winch (added extra) instructions.
The Ranger EV boasts a maximum speed of 40kph and comes with digital panel displays, a glove box, dual cup (ammo) holders and 50-watt headlights. The 'hour meter' that records and shows the hours of actual movement since manufacture is another welcome feature.
The base model RRP is $20,995 but Polaris are always offering great deals so keep an eye out for them. Also bonuses like the mentioned winch and enclosed cabin are available. Two helmets come free of charge with every Polaris vehicle.
For more information, please visit polarisaustralia.com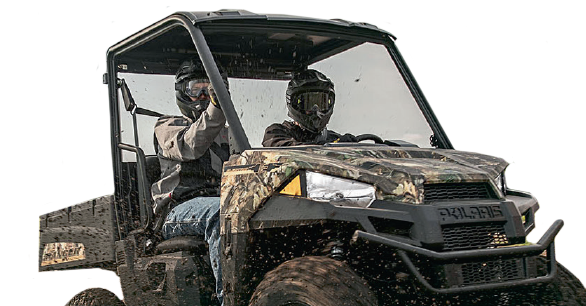 It is recommended that anyone using an ATV undertake a training course, along with wearing protective gear like a helmet, eyewear and appropriate clothing. As with any vehicle, be cautious of excessive slippery or loose surfaces, particularly when heading uphill. Remember to always wear your seatbelt.