G1T2 thermal gives hunters the edge
29 September 2021
Chris Redlich
In recent times we've seen increased interest in thermal imaging equipment to give shooters an edge over their quarry in lowlight conditions, many manufacturers responding until we now have a plethora of devices at our disposal. Thermal imaging is not new technology and shouldn't be confused with night vision equipment which uses and enhances available ambient light to view images and surroundings in the dark but is not reliable at extended ranges. Thermal imaging, on the other hand, detects the differing levels of infrared (IR) energy or heat signature from living creatures to identify and return a highlighted image outline, both day and night.
Sector Optics are new kids on block, launched in the US as recently as early 2020, though their parent company, Torrey Pines Logic, has substantially more optical experience. Established in 2002 they have an 18-year involvement in US Defence, providing specialised technology products for their military, law enforcement, intelligence agencies and other global partners. Their expertise includes visible, non-visible and IR laser systems, optical communications and image processing, UAV non-terrestrial link systems and, of course, thermal optics.
Sector Optics was launched to supply cost-effective, functional devices to civilian markets and Australian Shooter was given the chance to test their new G1T2, marketed by Australian distributor Dolos Tactical. The G1T2 came impressively supplied, foam padded in a protective hard plastic pelican-style case accompanied by a swag of ancillaries including spare disposable batteries, rechargeable batteries and charger, USB cables, Allen keys and user manual.
Product described
G1T2 is the designation for the combination of G1 riflescope and T2 thermal imaging attachment, sold as a complete thermal imaging and scope package that comes fitted with a Picatinny ring mount with base. The G1 is basically a standard variable scope of 1 to 8x magnification and 24mm objective lens housed in a 30mm main tube. The turrets, as per most other scopes, have elevation adjustment on top and windage on the right. A USB-C type plug receptacle is on the lower forward section of the left illumination turret and is where the T2 thermal imager is plugged into the G1, linking the electronics of the two components.
Main electronics of the G1 are stored in the ocular bell and evident by the cylindrical raised section marked 'internal display'. The G1 scope has a factory-set parallax of 100yd/90m and is supplied with a glass-etched No.4-style reticle including centre dot in the second focal plane. Additionally, the G1 reticle centre dot is illuminated and brightness adjustments are easily made with the left-hand turret dial marked by increments of 0-11.
To round off the package the T2 thermal imager is mildly obstructive but tastefully attached to the forward section of the G1 scope, with the 'head up display' of the thermal image easily viewed over the scope and replicated in a smaller (ID) internal 'head up display 'above the G1 scope reticle. Sector Optics' engineers have done a good job marrying the T2 thermal imager to G1 scope as they combine for a well-balanced piece of equipment weighing around 1kg with batteries.
A thermal imaging device won't work without power and a good piece of night hunting equipment can't be solar powered for obvious reasons. The T2 is powered by two CR123 batteries and installed in a watertight compartment on the front of the unit flanked by the laser rangefinding lenses (right) and thermal optical zoom lens (left).
The battery power level indicator is top right of the display panel when turned on, the optical zoom lens adjusted by a dial and rotated for levels of 3x to 8 power magnification. On top of the T2 is an easily manipulated function control pad consisting of toggle switches for all major controls including 'power on/off' and 'image snapshot' (centre), 'brightness up' and 'reticle on/off' (top), 'colour schemes' and 'displays on/off' (right), 'brightness down' and 'menu' (bottom) and 'laser rangefinding' (left).
Note that arrow buttons are also used to navigate through the menu display. Additional to the G1T2 inventory is a remote cable with finger pad to externally control the laser rangefinding function, plugged into the USB port to the left of the T2 'head up display' or main screen body. The finger pad can be attached to the stock fore-end and easily activated by the non-master hand with range readings in yards displayed in the G1 image. The T2 display has a selection of four screen colour choices and six styles of reticle available at the push of a button, though I don't like playing around with settings once I find a preferred colour and reticle.
At the range, in the field
After sourcing a Picatinny rail I mounted it to my 7mm-08 Rem for what I felt would be an effective rifle to test the thermal attributes in a hunting scenario. The user manual states the G1 Picatinny mount is to be tightened to a torque of 65 in/lb and I positioned it for correct eye relief the same as any other scope.
I sighted the G1T2 for 100m zero and found the process a breeze. The G1 elevation and windage adjustments are calibrated for ½ MOA at 100yds and after a few clicks up and across I was in business, the target sight picture of the G1 scope crisp and clear. With the rifle sighted and rehearsal of the T2 functions completed, it became apparent the T2 and G1 are not in sync after manual sighting. Put simply, the thermal image reticle isn't automatically aligned with the scope reticle as I'd expected.
Although the manual instructs how to electronically align the T2 to the G1 reticle, the T2 reticle alone can't be relied upon for accurate long-range shot placement and I won't recommend otherwise. However, reticle alignment would benefit the accuracy of laser rangefinding your image. By my own definition the G1T2 is a standard scope with attached thermal imaging aid and identifying these anomalies helped me take a different approach to testing. Its benefits are evident when we understand a thermal imaging aid can be used effectively in normal daylight conditions, picking up a thermal signature of unsuspecting ferals in the grass and enabling the shooter to prepare for shot placement once the target shows itself.
Before putting the G1T2 to use it's important to keep the protective cap on the T2 lenses until required. The external optics of the laser rangefinder and thermal imager are sensitive to dust and dirty lenses can greatly affect the image and detection abilities, so familiarising yourself with the thermal imaging capabilities and range limitation is also important prior to field use. As with other standard riflescopes, understanding that while higher magnification draws closer the detection and viewing of an animate object, the field of view (FoV) is greatly reduced and as magnification is lessened FoV increases. Refer to Figure 1 supplied by Sector Optics using the 3x magnification and 8x example, showing G1T2 detection ranges.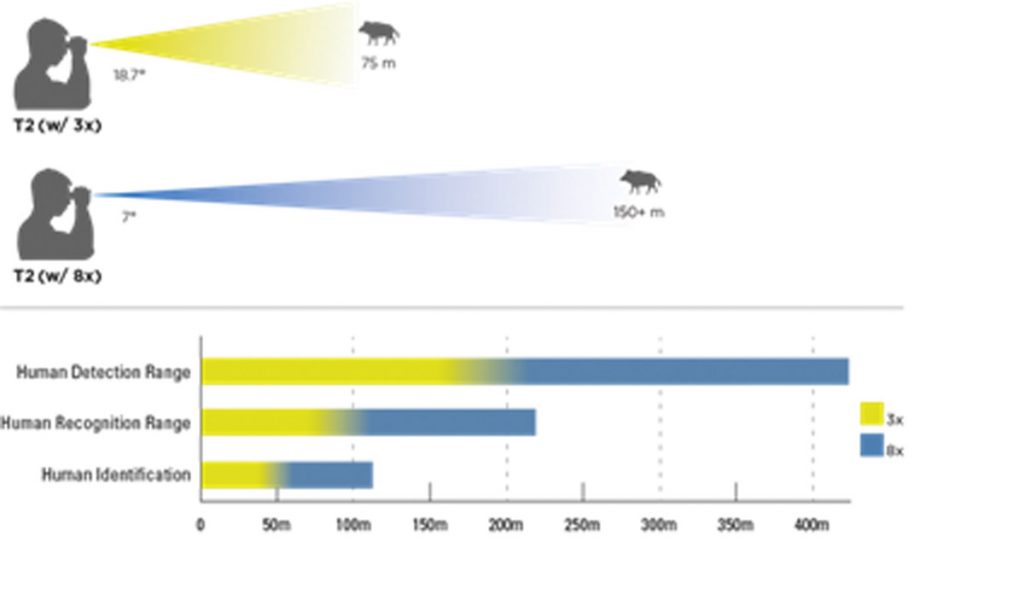 While field testing the unit I managed to capture screenshot images of an unsuspecting wild dog at close range. Undetected lurking back and forth, he must've sensed something was amiss and hastily retreated before I could confidently take a shot, though he hung around long enough for me to capture a few images on various colour settings. At home those images were downloaded to my PC and I noticed details not evident in the field – the dog was identified as male on my computer screen, highlighting the quality of the T2 thermal image device.
Conclusion
With so many new hi-tech optic sights on the market it's important for consumers to understand a product's capability and while initially I believed the G1T2 to be an integrated thermal imaging scope, my findings during testing proved valuable and I was able to re-evaluate. Put simply, this is a good scope with well-fitted thermal imaging aid and built-in laser rangefinder. The thermal qualities of the T2 component enable the shooter to identify targets not easily seen in challenging light conditions, making it beneficial to the feral pest controller chasing a mob of pigs or sneaky wild dog.
As with all their products, Sector Optics (US) offer a five-year warranty on the G1T2 with after-sales services handled by Australian distributor Dolos Tactical – [email protected]. Retailing for $5293 at time of writing (excluding packages or deals), the G1T2 is a product worth investigating. More at www.dolostactical.com