National Championship 2022
09 Oct 2022 - Micket Chreek Shooting Complex Darwin
After two successive years of cancellations due to COVID restrictions the Darwin Big Game Rifle Club stepped up to the challenge and hosted an excellent Big Game Rifle National Championship.
The event was held over 8th & 9th October, with all the core events for the National Title being held on Saturday, and three excellent supplementary events held on the Sunday.
The championship contest commenced with Special Snap, and event combining speed and accuracy, with 8 shots required in a time limit of 35 seconds at a 25 m target. Our Nationals use the 50m international slow fire pistol target (SSAA 13M), as our standard target for championship matches, and for many other events. The 10 ring is 50mm in diameter, so is easy enough to hit at 25m in a steady hold, where time is not a factor, but when under the pressure of a time limit it takes good skill levels to score a handful of 10's. The X ring, or centre bull is just over 24mm in diameter, and is used to break ties. Competition is usually close, so this is often necessary. On top of this, the course of fire limits the competitor to 4 shots in the rifle, so at least one reload is necessary. It is a great test of shooting skill under pressure.
The results were close, with the first three being decided on a countback of X rings. Bob Christopher was victorious.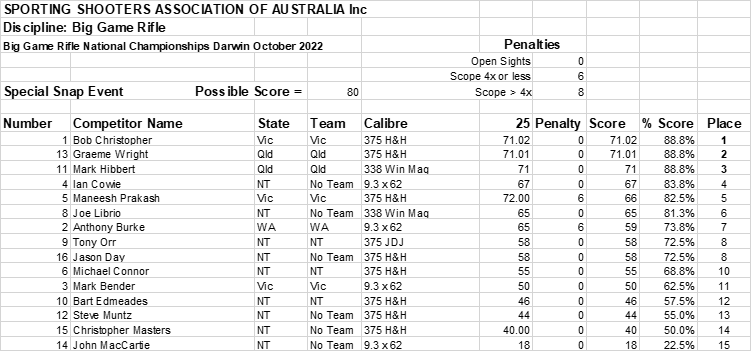 The second event is Group 1. This event requires 20 shots with a combination of accuracy tested under slow fire conditions, and speed and accuracy tested in combination for a number of pairs of sots fired in 10 seconds. 8 shots are taken at 100m, with four sitting or kneeling, and four standing unsupported, each group of 4 had a five-minute time limit. This is followed by four shots standing unsupported in five minutes at 50m, and then four pairs of shots in 10 second, with one pair at the 50m target, and 3 pairs at the 25m target. These results are shown below, and once again the results were only decided after a countback of X rings. This time Mark Hibbert was victorious.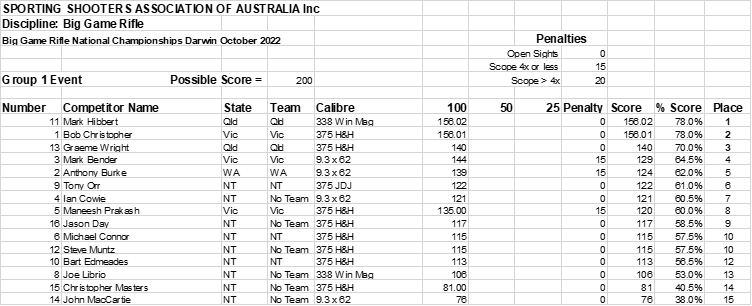 The next event was Black Powder Express. The course of fire in this event is identical to Group1, but the rifles must be black powder firearms, with a minimum of 110 grains powder capacity, a minimum muzzle velocity of 1600 fps, and a range of bullet weights favouring the light end of the spectrum for the calibres involved, which are from 0.400 upwards. This event was not close, with Graeme Wright scoring an impressive 169 to take the win. The results are given below:

The final stalking category event was Stalking Double Rifle, where double rifles with calibres from 228 onwards are eligible. The course of fire requires 14 shots, with four slow fire at the 100m target, two sitting or kneeling, and two standing unsupported, followed by six shots at 50m, with two standing unsupported slow fire, followed by 4 in 16 seconds. The at 25m there is another bracket of 4 shots in 16 seconds. This requires a smooth reload and great skill to align the sights and shoot accurately under time pressure. Again, we have another close match decided on a countback of X rings. Bob Christopher was victorious for the second time in the championship. Results are presented below:

Following the completion of the Stalking double event, which concluded all the stalking category events, the completion then moved on to the stopping category events. These all require calibres in excess of 0.400, and the minimum muzzle energy for the majority is 3900 ft lbs.  The first stopping category event was stopping double rifle. This event has a course of fire similar to stalking double rifle, except that there are no shots at 100m. This event was won by local competitor Tony Orr, with a very respectable score of 89. Results are given below:

The Group 2 event followed. This event has a course of fire requiring 14 shots at targets at 100m, 50m, and 25m. The slow fire section has two shots sitting or kneeling at 100m, two shots standing unsupported at 100m, two shots standing unsupported at 50m, followed by four brackets of 2 shots in 10 second, one bracket at 50m, and 3there brackets at 25m. Shooting powerful group 2 rifles from the sitting or kneeling position can be a bit of a test due to the recoil, but our seasoned competitors had another close tussle, with West Australian Anthony Burke emerging victorious. Results are presented below:

Bore Guns came next. The bore guns event follows the same course of fire as Group 2, with 14 shots required. This is a spectacular event involving firearms of yesteryear, with most competitors using 12 Bore rifles, firing heavy cast lead projectiles. This event is both a test of shooting skill, and a test of reloading skill.  Achieving accuracy at anything over 50m with a bore gun can be quite difficult, and the winners display skill in both the reloading technique, and in their shooting capability. Once again a close event with only one point in it, and for a third time in this  event, Bob Christopher was victorious. Results are given below:

The final of the eight core events was Group 3. This event required rifles over 0.500 calibre with minimum bullet weights of 525grains, and minimum muzzle energies of 5300 ft lbs. * shots are required, with 2 slow fire shots, standing unsupported at 100m, followed by 3 brackets of 2 shots in 10 seconds, with one bracket at 50m, and two brackets at 25m. Bob Christopher kept up his great form with a fourth win for the day. Results are given below:

That concluded day one.
The following day we had three supplementary events, African plains rifle, shot over 200m, 100m, and 50m, followed by Charging Buffalo, followed by Charging (Advancing target) Lion.  African Plains is a test of long-range accuracy using magnum calibres from 6.5mm to 8mm, while Charging buffalo is a territory version of charging animal, with competitors required to move stations for each pair of shots. This is a great test of skill. Finally, we were shooting under pressure again with a moving target as our final test. This involved a large lion target advancing from 50m to 25m in about 5 seconds. The first shot was stationary, the remainder with the target moving rapidly towards the competitor. Many competitors managed two further shots (for a total of 3), after the target started moving, with a few speedy characters getting a total of four shots away. Again, the results were close. The results of the supplementary events are presented in order below:



The competitors retired for lunch, and afterwards attended a presentation and awards ceremony in the club house. The Darwin Club are to be congratulated on a very well-run event, but on top of that they managed to secure a range of generous sponsors and provided a selection of excellent prices for the top three in each event.
Due to some very consistent shooting, and four event wins, the champion for 2022 was Bob Christopher, with Graeme Wright a very close second, only 1.2% behind after a full day's shooting. Mark Hibbert came in third.
As the top three placegetters are all Veterans, the veteran's placings are the same. Full aggregate results are given below: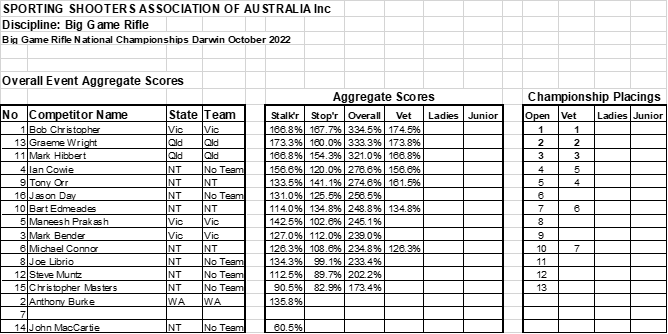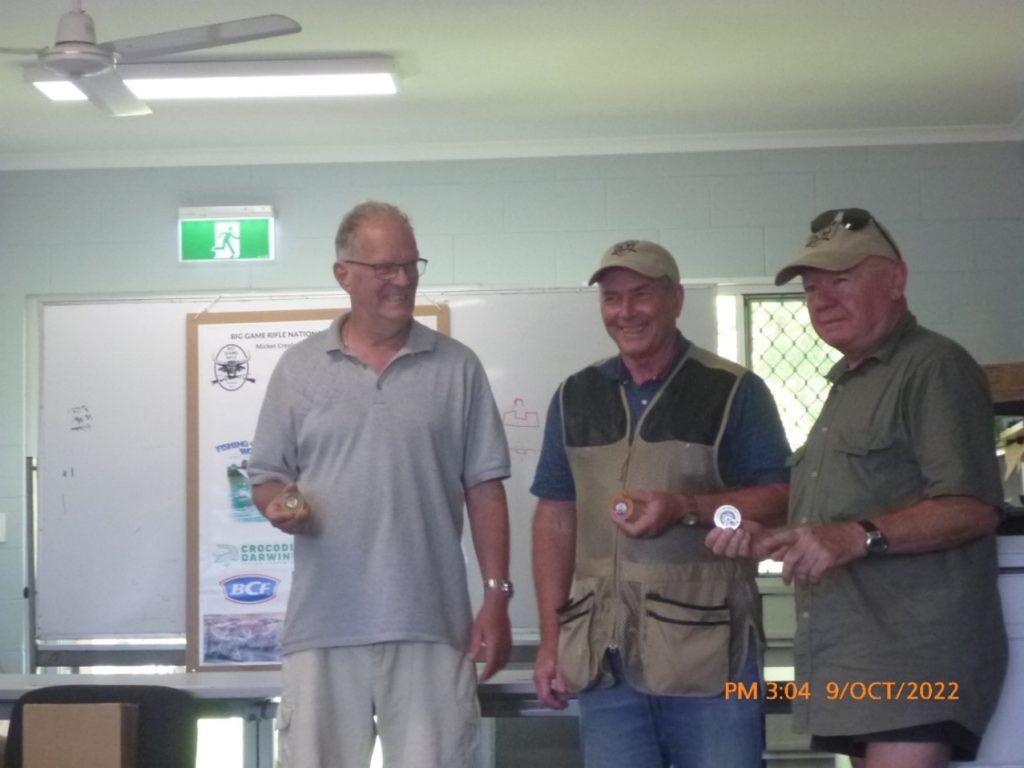 Congratulations to Bob Christopher, on another Big Game Rifle National Championship, backing up the win he had at our last Nationals in 2019.
The team event was won by Victoria, with Northern Territory second, and Queensland Third.
We would like to thank the event sponsors sincerely for getting behind this competition and providing some excellent prizes. The event sponsors are: MG Electrical, Amrock Civil, Fishing & Outdoor World, Territory Firearms, Rowe Mechanical, Top End Custom Wear, Crocodile Darwin, C & S Firearms, Top End Water Storage, BCF,
Mark Hibbert.
Big Game Rifle National Discipline Chair