In pursuit of pigs
by John Robinson
Hunter 2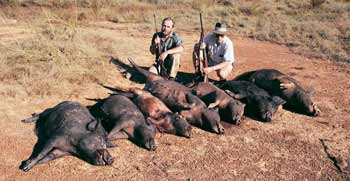 When I was first taken pig hunting by my dad in the 1950s, there was no doubt that the best hunting was in north-western New South Wales, particularly in the Macquarie Marshes and the watercourse country between Moree and Collarenebri.
The main attraction for feral pigs in these areas was water, particularly in the summer months, and hunting hogs was generally a simple matter of working the bore drains and swamps.
Hunting pigs on the plains is relatively easy, especially when using off-road vehicles or bikes to get around. Once spotted, it is hard for a pig to outrun a hunter in a vehicle in flat plains country, unless it gets to a fence or some other obstacle.
Nearly half a century later, the feral pig-hunting scene has changed almost beyond recognition. Many of my old stamping-grounds have been converted from pretty rough sheep grazing country with plenty of lignum and scrub to sterilised cotton plantations or broad-acre wheat farms.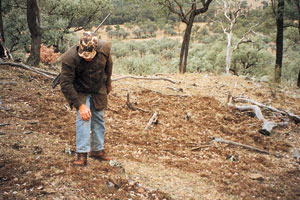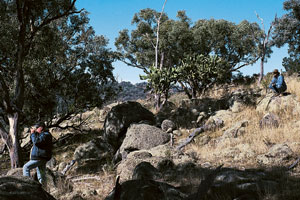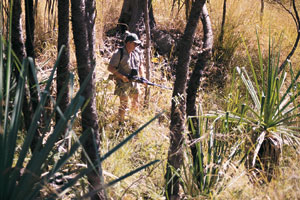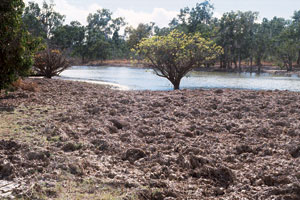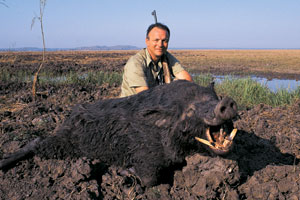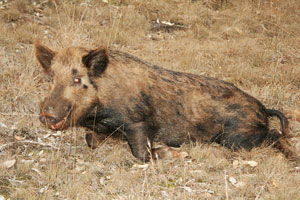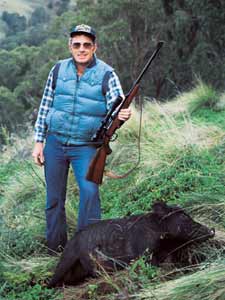 The large mobs of pigs that congregated in these areas have either moved out or been thinned out by more aggressive feral animal control or by commercial meat hunting, and it's been a long time since I have seen the numbers of pigs that were common in the 'good old days'.
However, the news is not all bad for pig hunters. There has been a mass migration of feral pigs into other areas, particularly state forests and national parks, where they have virtual immunity from sport hunting.
Obviously, much private farming property has provided good pig habitat and also provides a broader range of terrain that pigs quickly adapt to. Much of the public lands also act as feeder areas that pigs move in and out of according to the weather, hunting pressure and their need for feed.
Just as pigs do not like hot weather in the west, they don't like cold weather in the mountains and when the temperatures drop, pigs will frequently migrate out of high country into softer lowlands.
For keen pig hunters, feral pigs can be found just about anywhere along the eastern seaboard of Australia, from the coastal plains, across the Divide and through the tablelands and the western slopes. I live in Newcastle and, even around the sixth-biggest city in Australia, feral pigs can be found from time to time on the fringes of the suburbs.
The main difference is that pigs are likely to be present in smaller numbers and, in the case of mature boars, as solitary animals that have a territory of their own. More abundant food supplies tend to spread pigs out over wider areas. Unless there are crops or some other food source to concentrate pig activity, hogs can be quite itinerant. All these factors need to be taken into account when hunting feral hogs in the 21st century.
Pigs have poor eyesight and because they are relatively close to the ground, they are not as astute at spotting 'the enemy' as other game, such as goats and deer.
Pigs have an outstanding sense of smell, however, and this characteristic needs to be respected by those wanting to hunt pigs successfully in other-than-open country. Hog hunting in thick bush country is as challenging as any game hunted in this country and the hunter has to be on the ball to get the drop on a pig feeding in the bush.
The other problem is that pigs are largely nocturnal and prefer to feed at night and lay up during the day. It is almost impossible to expect to flush pigs out of heavily timbered areas, as can be done on the plains.
It is necessary to put more study-time into local pig habits, preferred areas, feeding preferences and other behaviour patterns. Very early mornings or late afternoons are generally most productive, as pigs are likely to be moving around at these times of the day.
Sometimes, very cold weather will get pigs moving during the day, just as very hot weather will send them to ground or drive them to water.
The best indication that pigs are present in an area is the presence of rooting. Pigs love sniffing out underground edibles and because they are omnivores, they are just as happy eating grubs as vegetation.
The size and extent of rooted up areas can give some indication of the size and number of pigs that may be present. Single animals can do an enormous amount of rooting in a night, particularly if the ground is soft and there is food.
It is best to look for droppings in rooted areas. Big pigs have big droppings and checking these out will give you an idea of what the pig has been feeding on. Most of the time the droppings will contain a lot of roughage (coarse vegetable matter), but if there is any fur evident in the poo, it is an indication that the pig may be feeding on a carcass.
This is a great opportunity if a look around the area locates the carcass. Once pigs start feeding on a dead animal, they will usually keep coming back until it is picked clean. The surgical way hogs clean up a carcass is amazing and they will frequently consume all the soft bones (such as ribs) as well as all the meat.
Pigs seem to prefer decaying meat rather than freshly killed animals - the smellier, the better. However, a hungry pig will not be too particular. On one trip my mate and I shot three goats, including two good-sized billies, just on dusk. On returning early the next morning, less than 12 hours later, all three goats had been picked clean, with only the skull, spine and bit of fur remaining.
On other occasions, a carcass will remain untouched for days and the crows and eagles will be the first to get a feed while the pigs get around to it some time later. This may be related to their sense of smell, as a fresh carcass may not attract a pig unless he trips over it in his travels.
Hunting pigs successfully needs patience and sometimes a little luck. Finding a lot of fresh digging will indicate that hogs are in the area, but once an area has been rooted over, there is not much incentive for a bunch of hogs to come back and do the same again.
Water is always a necessity for pigs and if it is in short supply they will travel relatively long distances for a drink. Checking around dams or waterholes will reveal if pigs have been watering there. There will often be signs of wallowing. Footprints are also a dead give-away that pigs have been drinking there. A close look at these signs will tell how fresh they are. Muddy water, disturbed vegetation or really clear, fresh looking sign will indicate the amount and frequency of traffic.
Pigs, like all creatures, develop habits and travelling to water at a certain time every day may be one of them. On a few occasions I have successfully hunted pigs by spotting one moving away from water at a certain time of day and then checking from a vantage point the next day to determine if the behaviour is regular.
If it is, the hunter can get the drop on the quarry by being in the right place at the right time. It might take two or three days to evaluate the situation, but without such homework the chances of success will come down to good luck rather than good management.
If pigs are well scattered and the bush is in their favour, the most successful form of hunting, in my experience, is using baits. Where I do most of my hunting the country is steep and rocky and the least likely pig country west of the Divide. There are pigs there and they are always challenging to hunt.
Because I am there a week at a time, setting up bait stations works because it give the hogs time to find the carcasses and start feeding on them. There are plenty of feral goats in the area and they provide the ideal source of pig food.
Shooting a couple of goats early in the week allows them to ripen to the pigs' liking. They need to be set up in locations that can be approached quietly and with the prevailing wind in the right direction. Pigs will usually drag carcasses around when feeding, so they may not be where you left them. Sometimes such baits do not work in one area but will be successful if planted 500 metres away.
This last winter two friends and I put in a hard week hunting pigs in the rough country north of Emmaville in northern NSW. We saw half a dozen good pigs, but could not get a shot at any of them, as they were never in the open and within a couple of seconds could disappear into the thick scrub.
On the morning of the last day of our seven-day hunt, a cold front came through and we saw two reasonable boars - one black and one unusually marked in black and brown - on a sheltered hillside, too far away for a shot. They disappeared over the ridge, heading south. Late in the afternoon, we decided to check the most remote bait station at the far southern end of the property on a heavily timbered ridge. We left the bikes about 500 metres back and quietly walked along the ridge into the wind.
When we were about 50 metres from where we had left the goats, a black boar darted into the scrub to the right and another dark form broke away to my left. I took a quick shot as the boar appeared momentarily between the trees and I heard a grunt. I ran through the bush and administered the coup de grace as the wounded pig faltered in a small clearing. By its markings, it was one of the boars seen that morning and had travelled several kilometres to this point.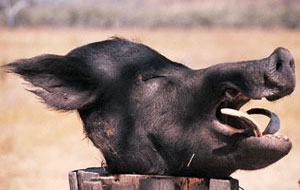 Without the bait station, it is unlikely that the opportunity for a shot would have presented itself. As stated earlier, the good old days of big counts on pig hunts may be over, but the satisfaction of taking one good boar after a week's serious pursuit also has something going for it.
Captions
Image 1: These seven pigs were taken from a mob coming in for a drink by these Hunt Australia clients - a rare sight these days but fairly common 25 years ago. The area from which these pigs were taken is too remote for commercial meat hunters, hence the abundance of good pigs.
Image 2: Author examines a large area of very fresh rooting on the top of a ridge caused by two boars.
Image 3: Unlikely pig country - this rocky terrain north of Emmaville in northern NSW will usually produce pigs but only in small numbers, as hogs have to work hard for a feed. Dead animals are attractive to pigs when food, such as crops, is scarce.
Image 4: Hunting pigs in thicker bush like this requires a fair bit of luck. Pigs will lay up and hide in a thicket and you will almost have to walk on them (very exciting) to get them to move.
Image 5: North Queensland breeds some big pigs and this entire area beside this waterhole has been comprehensively rooted up and looks like a ploughed paddock.
Image 6: On the plains, pigs and water usually go together. This great trophy boar was taken by one of Bob Penfold's Hunt Australia clients while staking out this waterhole.
Image 7: The brown boar was caught up with a few hours later on a six-day-old bait station (a goat carcass).
Image 8: High on a hill, this small boar was taken by the author after a two-hour stalk and just after three pigs this size were spotted feeding on the top of a high ridge on the edge of a belt of thick scrub. The approach was made through the scrub rather than from the open country in the background.
Image 9: Large numbers of pigs now inhabit the high country of the Great Dividing Range. This boar was taken near the western edge of Barrington Tops National Park (elevation 5000 feet). Pigs move out of the Park in the winter to this area (3000 feet) to slightly warmer climes.
Image 10: This Australian record-class boar was taken in the Northern Territory by a German Hunt Australia client during the author's visit. The boar was shot on a bait station set with feral donkey carcasses. Around May, the grass is too high to see any ground-level game. Waterhole hunting in this area is better late in the dry season.