European brown hare
by Anton Jurasovic
Hunter 3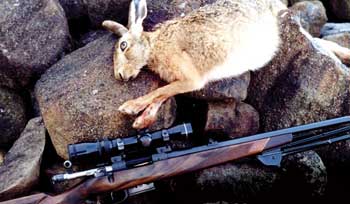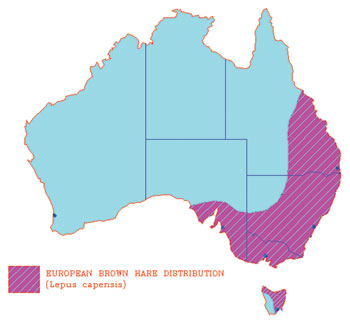 The European brown hare (Lepus Capensis) is a respected game animal throughout most of Europe and parts of Russia. Prized for its sporting qualities of great speed and natural caution, as well as its dark, flavoursome meat, the hare was introduced into Australia as early as 1837. These early attempts to establish wild populations in Tasmania appear to have failed. The earliest known successful wild colony was located on the shores of Westernport Bay, Victoria in 1862. Colonies were also established on Philip Island and from there the hare spread to many other areas in Australia. It was found to thrive on native grasslands and woodlands, not to mention improved agricultural pasture and by the early 1900s it occurred in plague proportions in northern
Hares currently exist in 'huntable' numbers in Victoria, New South Wales, Tasmania, South Australia and southern Queensland. Thankfully, for our primary producers, the population has now levelled out to a tolerable situation in most areas and the hare is only considered a pest when it raids cereal and lucerne crops or gnaws the bark from fruit trees and vines.
Hares are similar in body shape to rabbits, but are considerably larger. A 2kg rabbit is a big specimen, whereas adult hares range in weight from 3.2kg to 5kg, with the 'doe' averaging slightly larger than the 'jack'. They have a tawny, flecked fur and black tips on their ears, which make them distinctively different to the grey of a typical rabbit. The flecked colouring is made up of a mosaic of tan, black and white hairs and the overall effect is a mottled coat that blends in with dry grass extremely well.
Hares have much longer legs for their body size than rabbits do. They are able to accelerate to 50km per hour for short bursts and can also travel long distances at a decent pace. Their capacity for extended running is due to their body being made up of mainly dark, 'slow' muscle, which is well oxygenated by their generous heart/lung capacity and large blood volume. Anyone who has cleaned a freshly shot hare will recognise that their vascular system is well developed by the fact that they bleed out of proportion to their size.
The hare's preferred habitat is open country, preferably with some tussock or rocks to hide among. Unlike rabbits, hares do not burrow. They rest during the day in a 'form' or 'squat', which may be in patches of long grass, among rocks or logs or even in a scraped hollow in the ground if nothing better is available. I have found that hares often live in pairs. Having 'sprung' a hare from its form, I always give the area some immediate extra attention and it regularly pays off with a second hare making a break within a short time.
Under favourable conditions, it is claimed that hares can produce up to five litters of two to four young per year. Although there is no strongly defined breeding season in most areas of mainland Australia, most young are born in spring and early summer. In areas where winter is too severe for young to survive, such as most areas of Tasmania, there is a definite yearly breeding cycle, with young hares or 'leverets' being born in September and October. Leverets are born fully furred and with their eyes open, ready to tackle life in the exposed areas hares prefer.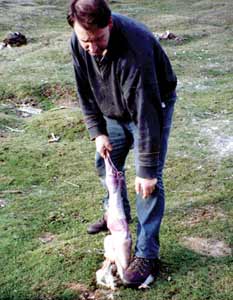 Hunting hares is a challenging proposition. They have exceptional hearing, extremely good eyesight and as good a sense of smell as any other small game animal. Hares have two main responses when danger is detected. If they locate a predator at long range and they know they have been spotted, they will move away immediately. Typically, in open paddocks, this means the hare will spot you and run while you are 200m away or so. The other response occurs when the hare decides it hasn't been spotted. It will lay its ears along its back, sink as low to the ground as possible and freeze. A hare that manages to freeze in this manner while undetected is very hard to pick out. In fact, on several occasions I have watched a hare freeze and after starting to walk in on it, found that I couldn't locate it again after having glanced away. Once a hare has committed to relying on its camouflage, it will not make a break unless it is certain it has been located or is about to be stepped on.
When the country is very open and the grass is short, hares usually decide to run for it at extended ranges. I have enjoyed many afternoons of 'walkabout varminting' for hares in these circumstances. I use a medium weight centrefire rifle fitted with a bipod and, while walking, watch for hares starting to move 200m or so from me. Once a hare is spotted, I immediately drop to prone, set up the bipod and wait for the hare to stop for a look back. Most shots are in the 200 to 300m zone and once the hare stops, it is necessary to line up and fire fairly quickly before it begins to move off again. Cartridges such as the .222 and .223 are ideal for this style of shooting.
If the area has tussocks and rocks or piles of logs or branches, then the chances are that hares will be nearly impossible to spot at any distance. In these conditions, they tend to freeze among the ground cover and wait out any perceived danger. This scenario is perfect for hunting with a dog and shotgun. A good pointer will find and lock onto frozen jacks or does without pushing them to break cover. This gives the hunter an opportunity to get within shotgun range and take a shot as the hare decides to burst forth. Hares have a turn of speed in a straight line that makes this style of shotgunning very sporting and exciting. One major advantage of this style of hunting is that by utilising the dog's senses to find the hares, a hunter usually sees much more game than would otherwise be the case.
In the area where I live, hare numbers peak around November. At that time of year, I really enjoy hunting them during the last hour or so of daylight. At that time of the day, they are quite active, moving out from their forms to feed, frolic and socialise. The areas I hunt are quite hilly but open. I set myself up in an elevated location and use my binoculars to locate them, in much the same way I would glass for deer. Having located a hare from afar, it is not usually difficult to plan a stalk, which allows an approach to within 150m or so. It is almost too easy to take them at that sort of range with a centrefire rifle. Sometimes I use my .22 Hornet and snipe them as soon as I am within range, but often I bring along my battered Sportco .22LR. To be sure of a clean kill with the rimfire, I need to be no more than 70m from my target and the stalk required to get into range can sometimes be quite challenging and certainly much more memorable.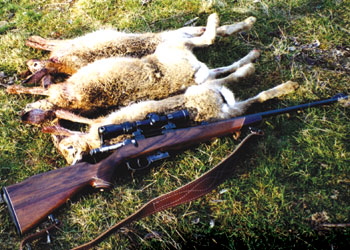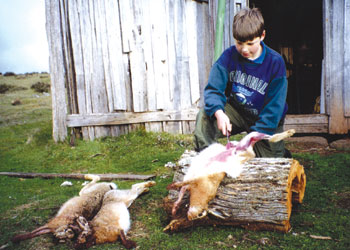 At certain times of the year, hares will respond to particular predator calls. I have no idea why this works, but I can vouch that it is an effective method. The call I have had best results with is the Scotch Predatorcall, No. 1503. During summer and particularly at first light or just on dusk when hares are already moving about, this call will bring them in to within 15m. When they approach, they are quite agitated and will rarely remain stationary for more than a moment, which can be quite frustrating. A rimfire is more than adequate for this style of hunting, although a shotgun is very useful when they just won't sit still. On one occasion I attempted to bow hunt a called in hare, but my arrows kept landing where the hare had just been.
By far the most productive way to hunt hares is to spotlight them. I don't consider spotlighting from a vehicle very sporting, but I occasionally take hares while spotlighting on foot. Sometimes, however, it becomes necessary to spotlight seriously, as it is the only way to remove enough when they are becoming a pest. Each growing season I usually have to spotlight hares that are raiding young oats at one particular property I hunt on. They seem particularly attracted to this food source and I have seen densities of feeding hares that would be at least ten per acre. Needless to say, the farmer doesn't like them much and I've been forced to learn how to remove them effectively.
Hares are often very fidgety under a spotlight. They will hop around, only stopping momentarily, or else they will lope along slowly, but not sit in the light. On a couple of occasions, when the hares didn't want to sit in the light, I found that a blue filter on my spotlight gave good results. I have also found that holding the main beam of the spotlight stationary, just in front of where the hare is travelling, will usually cause it to stop just on the edge of the light, not wanting to enter the bright area ahead. This gives the shooter a good opportunity to fire.
Hare is renowned as a gourmet ingredient and many top restaurants feature dishes incorporating it. The meat is dark and very low in fat and it benefits from ageing in much the same way as venison. Three to six days hanging in a cool place (depending on ambient temperature) is definitely worthwhile. One thing I would stress is that adequate cooking time should be allowed to ensure the meat is tender. Old hares can be like boot leather if not cooked properly, even after ageing. I have found the meat responds well to any style of casserole, which keeps it moist. It is excellent for use in pies, as it has a fine texture and maintains its 'chunkiness' after extended cooking. Smoked hare is a delicacy that Europeans covet and it adds extra flavour to any hare dish.
Hares are a true game animal and they have earned my respect as worthy quarry. They add a touch of nobility to the hunting in the areas they are found. Seeing as they rarely become pests and their eradication would be practically impossible anyway, I sincerely hope that Australians will learn to perceive them as a valuable resource, rather than degrade their status by considering them only as a feral pest.