Eley returns
by John Robinson
Eley was founded in 1828 and, for most of the 20th century, its name has been synonymous with high-performance ammunition. For as long as I can remember, the company has been the leading manufacturer of winning .22 rimfire ammunition. In 1999 Eley won 31 of the 75 places contested in international competition.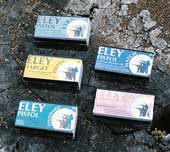 Eley Tenex has been a world leader among Eley's target brands of ammunition and the continuous development of Eley's manufacturing technology has allowed it to maintain its dominance in this area.
One problem for Australian shooters has been the lack of a regular distributor. This problem has been solved with Euroarms being appointed official sole distributor of Eley pistol ammunition in Australia and John Moore, the company's principal, is keen to support the products and, more importantly, the people who use it. Rifle match ammunition is now also stocked by Euroarms.
After shooting several SSAA rimfire matches this year and listening to the cries of the serious shooters about the cost of premium-grade rimfire ammo, I was pleased to be able to test a batch of Eley pistol ammunition that ranges from standard grade through to premium grade.
Because there are more than 20,000 pistol shooters in Australia, there is a significant demand for rimfire target ammunition and specialist dealers are thus inclined to carry stock. Premium grades of rimfire ammo, including Eley Tenex, RWS R50 and Federal Match, are about five times the cost of standard-grade target ammunition, so cost is an issue with regular shooters.
I received four different types of ammo for evaluation. These were: Eley Pistol Standard, Eley Pistol Target, Eley Pistol Match and Eley Pistol Xtra.
Visual inspection of the various types of long rifle ammo is worthwhile and there are physical differences in the different grades of ammo. While superficially similar, each type of ammunition was physically different, specifically in overall length.
The overall length of the Eley ammo is as follows:
Type Length mm Length inches
Eley Pistol Standard 2.52mm 0.990"
Eley Pistol Target 2.48mm 0.972"
Eley Pistol Match 2.44mm 0.958"
Eley Pistol Xtra 2.50mm 0.983"
Eley describes each type of ammunition as follows:
Pistol Standard General-purpose pistol cartridge - Muzzle vel. 314m/sec (1030 fps)
Pistol Target High quality general-purpose cartridge suitable for 50m events - Muzzle vel. 314 m/sec (1030 fps)
Pistol Match Reduced velocity specially designed for Free Pistol - Muzzle vel. 305 m/sec (1000 fps)
Pistol Xtra High accuracy pistol ammo. Suitable for 25m and 50m competition - Muzzle vel. 314 m/sec (1030 fps)
To test the ammunition, I elected to put it through a rifle to determine its accuracy potential and then to shoot it through a Unique DES 69 target auto to assess velocity performance.
The rifle used was a JGA 1422, which is a very accurate sporting .22 built on the Anschutz Match 54 action. My rifle will shoot 12mm groups at 50m with good ammo if I do my part, which is not often.
I used my Oehler Model 35 Chronotach chronograph to get the readings. This is a very accurate unit that uses three screens, with the centre screen 'checking' against the other to ensure repeatable accuracy. The unit accumulates the readings for a string of shots and then does a summary and calculates averages and standard deviation.
For those unfamiliar with statistics, standard deviation is a measure of the consistency of the ammo. I shot ten-shot strings to get enough data to be statistically significant.
All groups were shot off a sandbag rest at 50m. The large group size for the rapid-fire ammo is not surprising as it was shot from a long rifle chamber. The barrel-length factor always shows up with standard deviation, with longer barrels ironing out variations in velocity more so than pistol-length barrels.
The Unique DES 69 has a 150mm barrel, so it represents the longest 'legal' target pistol barrel length for autoloaders, while the JGA has a 600mm barrel.
The results obtained with this ammo certainly support the reputation of Eley ammunition. I do not consider myself much of a benchrest shooter and was shooting without consideration for wind, although it was a still, wet day during the shooting tests.

All but the standard pistol ammo produced ten-shot groups under 20mm at 50m. This may not be enough to satisfy competition rifle shooters but is acceptable for club-level target handgun use, where the 25m bullseye is 50mm in diameter.
The 11mm group shot with the Xtra is about as good as either the rifle or I have ever shot and it should be an attractive proposition for serious target-rifle shooters competing in the various SSAA matches.
Because all the Eley ammunition is not physically the same, the shooter may find one type may feed or function better than another based on the overall length of the respective cartridges.
Euroarms only deals with the trade and supplies of Eley ammo should be available through gun dealers on request.